Nick does an unboxing and review of some terrain he recently received from Grabblecast as well as shows off some palm trees he got from eBay.
Hey Warlords Nick here. Today was a nice long long day at work. So let me tell you my happiness when getting home and there was two boxes for me. One from Russia the other from China. Let's talk about the Russia box. It was from Grabblecast!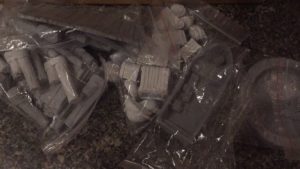 I order this stuff in mid-November and through no fault the folks at Grabblecast it took one of the most amazing journeys I've ever seen. That's right, I had tracking! Pretty cool and maybe later on we can talk more about getting stuff mailed from Russia.
So what did I get? I got their Long Pier set, Pier, Boat, bags, and boxes set, and the Fountain.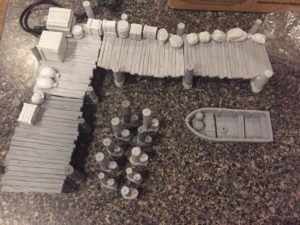 The Pier Set comes with all the bags and boxes you see lining the piers as well as the boat which includes a couple small, and unattached, details like the barrels and rope coil.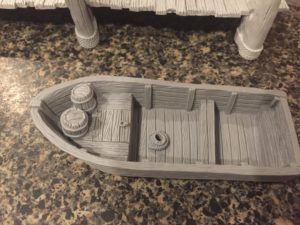 The boat is around 5 inches in length and 1.5 in width. Lots of little detail that is really clean. Then that set also includes a single pier section with 6 pylons. The pylons are pretty neat as well. Highly detailed there are three different types of them that I could see straight off. Might be other variations but the core is tall, short, and short and skinny.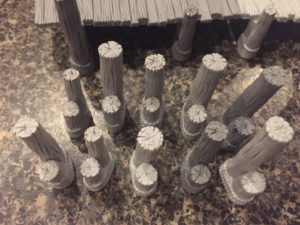 The piers themselves are great. At approximate six inches they will work well for either Blood & Plunder, Frostgrave's Thaw is the Lich Lord, or Frostgrave: Ghost Archipelago. In FGA they could even be used as bridges between islands.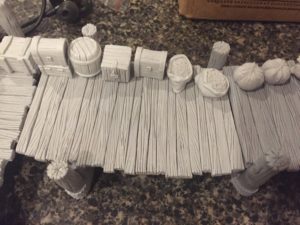 They don't have connection points on them for the pylons which is something I like. What I might try doing is adding a bit of metal and then putting into the pylons magnets. That should hopefully secure the piers though just testing them on top wasn't too bad. The piers are a little thin, 2-3mm most likely. Nothing terrible and I could probably drill into them enough to embed a magnet.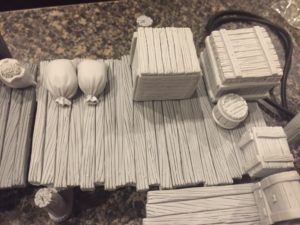 Maybe over thinking it but a little worried I might drill to far and hurt the look of the piers. Which would bum me out as they are awesome.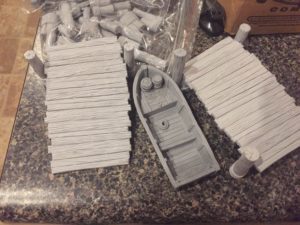 Above I was seeing if I could make a down sloping ramp. It wasn't bad and I could use this with Blood & Plunder no problem.
The Long Pier Set comes with 3 piers and 18 pylons. I find so far 4 for each so that leaves 6 extra. This can be handy for additional scatter in the water. Which means more flavor! Next thing I got for them that will be useful for the above mentioned games is the fountain.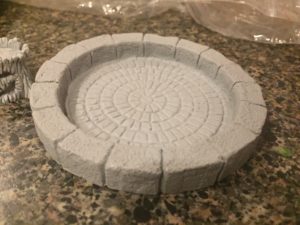 About 5 inches in diameter with a lot of detail. The stone work looks rough hewn but the timing inside is smooth and on a third glance it has coins in it!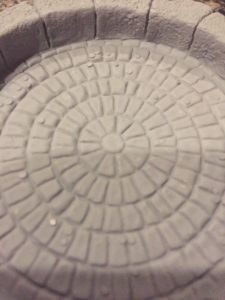 That is an awesome detail, those little coins. Wow, I'm a bit tickled by this. Copper pennies, gold pieces, pieces of 8, all with a little layer of water over it. I plan on painting it up mostly for a Spanish or French Caribbean town, I am thinking the tiles will be reds, yellows, blues, maybe some whites as well.
I wouldn't see it looking out of place though in Frostgrave towns or ruins. Maybe even outside a Roman Villa while a band of Romans fight for the objective of a mysterious Dominus. Most any fantasy or historical game should have it looking just fine in.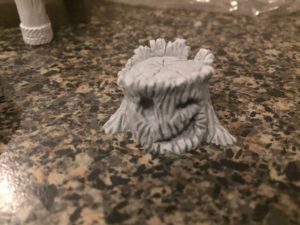 Then there is this little guy. He is awesome looking and I have admired him a few times. I can see having him in the Fey Forest in RelicBlade or still in FGA. I don't remember ordering him so it is a whole lot more awesome that he is here. He will fit with all the other stumps I have been painting from Grabblecast.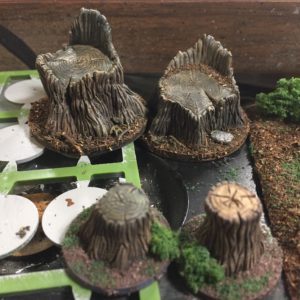 Those coins and this little guy. Man a great addition to the collection.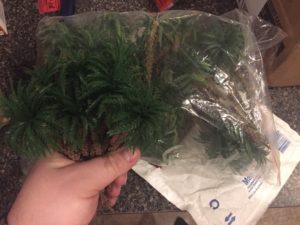 Bet you thought I forgot about the other package. I didn't. The one from China was an eBay order for a massive amount of palm trees that are 6 inches tall.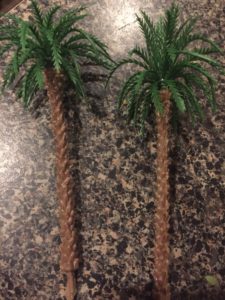 They feel sturdy but a little heat and you will be able to modify them. They aren't bad looking straight out the box either. A little bit of dry brushing and maybe a wash and they will look like right proper trees.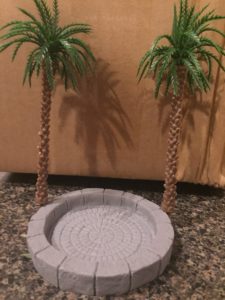 Could make a nice Caribbean or Middle Eastern scenery right there. We will see what happens. Maybe some use of magnets or just creative scenery design to allow it to be used else where. It is also cheap enough that I could just order another one and it would arrive with tracking! The fountain I mean. I don't need to order more trees.
Overall I love the Grabblecast stuff. It is really clean resin with great design. I really can't say enough about the detail they put into their stuff. From the coins in the fountain, their trees having moveable branches, and more. I look forward to see what else they come out with. The folks behind Grabblecast have been great to talk to and work with when ordering. You can see there stuff on the Facebook and eBay Store, links below.
Links: